Agrobud company was established in 1990. It is located in Lukowa, in lubelskie voivodeship in Biłgoraj county. It is a family run business with a status of a natural person. The owner of the company has begun to sell tobacco by buying in the raw material from farmers. He met all the requirements needed to run such a company. Agrobud is equipped with appropriate machines, starage space and a number of employees.
The company has been developing dynamically since its beginning in 1990. Its development is refeleced in all areas of the comapny's activity. We constanly improve and provide our wide selection of services adjusted to our customers' needs.
Our services include:
tobacco mutual contracting
tobacco buying in and trading
tobacco processing
tobacco farming chemicals
tobacco seeds
Agrobud development is influenced strongly by participating in international tobacco trade fairs. This fact is associated with gaining new contacts, making reasonable transactions with trading partners, investing in tobacco processing equipment, creating new storage space, Furthermore, company's cars and heavy-loaded truck fleet enables us to deal with forwarding trade. Due to these efforts, Agrobud enhances its competitve position on the international market.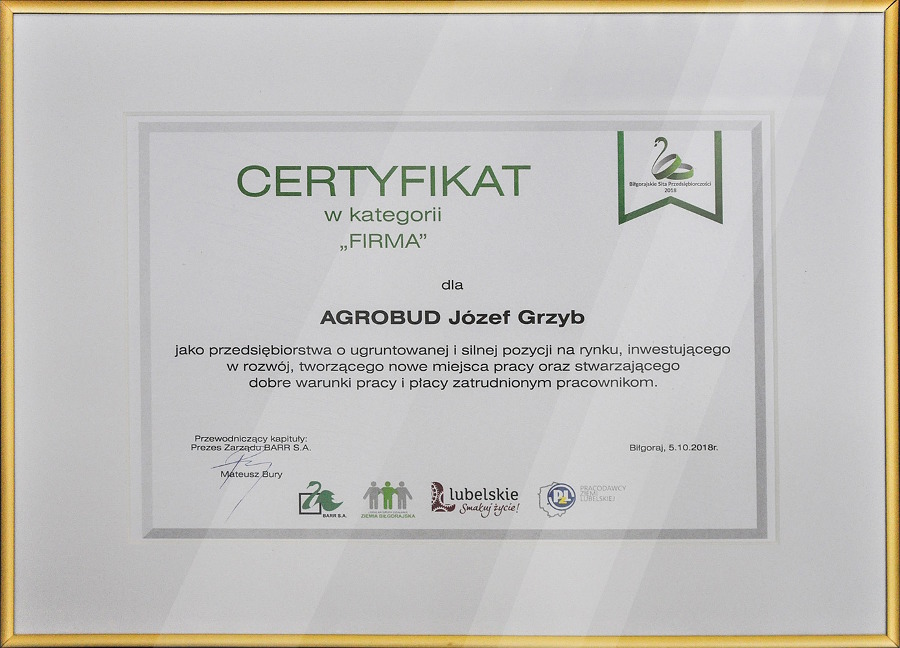 Our speciality is Virginia tobacco production.It is characterized by the highest world standards. We introduce innovations and new technological solutions. We cooperate with suppliers, namely production groups in which the biggest share belongs to Lukowskie Zrzeszenie Plantatorów Tytoniu (Lukowa Assosiation of Tobacco Planters).
Tobacco is mainly provided for shisha. What is more, we provide the following kinds of products: strips, ministrips, loose leaf and whole leaf. The products are packed in C-49 boxes. 100% of our production is exported. We have a fleet of 12 heavy-loaded trucks which we use for transport services worldwide.


We encourege other companies for cooperation.
---
Archive of entries
NEW TRUCK

We enlarged our fleet with another composition. At the moment, we have 12 heavy duty trucks that we use to provide transport services around the world.We encourage you to cooperate. A tak wygłąda nasza flota obecnie.

Celebration of the 30th anniversary

Agrobud, the family business of Józef Grzyb from Łukowa, which has been operating since 1990, celebrated its jubilee last Saturday. About 200 people celebrated the 30th anniversary of its activity in the Crystal Hall in Józefów. Representatives of cooperating companies and banks financing the enterprise attended the ceremony, and Stanisław Kozyra, the head of the …

"Biłgorajskie Sita Przedsiebiorczości"

Biłgoraj Regional Development Agency S.A. in cooperation with the Association of Employers of the Lublin Region, the Local Action Group "Ziemia Biłgorajska" and in partnership with the Local Government of the Lublin Province, announced the first edition of the "Biłgoraj Sita Przedsiębiorczości" competition. The competition was aimed at enterprises and farmers operating in the Biłgoraj …
---